Interior Painting & Maintenance Services
Every College Craft interior job starts with a very detailed and thorough proposal. We will come to your home or business and inspect the areas you would like to have painted and then provide you with a prompt proposal detailing in writing the specifications and pricing for your job. We have the expertise to handle any interior project – large or small. And, we can get to your job quickly and finish it on time. Many interior jobs can be done in a day or two.
We will give you a precise schedule date and we will start your job on time. With any painting, the final product is dependent on three important areas: Preparation. Products. People.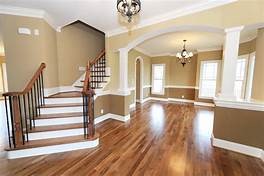 PREPARATION:
Make sure all surfaces are clean prior to painting.
Move furniture as needed.
Cover floors, furniture and possessions.
Patch cracks, nicks, holes on walls and ceilings.
Prime stains with stain blocking primer.
Remove outlet covers and HVAC vents as needed.
And we clean up thoroughly when the job is done.
PRODUCTS:
The quality of paint used on your job is a critical element in coverage, washability and durability. College Craft knows the proper preparation products and finish coatings for any kind of interior painting. We use top performing products from Sherwin Williams and other top brands.
PEOPLE:
College Craft has very experienced and knowledgeable crews who will do your job properly and efficiently. Every crew has a full time job foreman and we visit our crews every day. Our customers enjoy having our hard working, polite crews on the job.
COLLEGE CRAFT CAN HANDLE YOUR INTERIOR PROJECT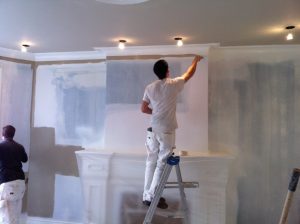 ➤ Walls, ceilings & trim
➤ Drywall repairs and installation
➤ Water damage
➤ Wall paper removal
➤ Cabinet painting
➤ Painting over stained trim
➤ Multi color rooms
➤ Striping, shapes, borders
➤ Cathedral ceilings
➤ Garage interiors
➤ Basements
➤ High preparation areas
➤ Carpentry repairs and installation
➤ Color assistance from Sherwin Williams